The New Hampshire Mustang Club is a non-profit organization dedicated to the enjoyment and advancement of motoring in general and the Ford Mustang in particular.
Membership is open to anyone with an interest in the above-stated goals. Ownership of a Mustang is encouraged, but not at all required.
All year Mustangs are welcomed and encouraged to participate at ALL club events. Whether you have a 6-cylinder convertible built in April of 1964, a late-model Cobra, or a new GT right from the dealer's sales floor, all Mustangs are part of the club. In fact, many of our members own both an early car and a late model!
NHMC's members are varied also in how they enjoy their Mustangs. For some, preservation of "factory original" condition is most important. For other members, personalization of their Mustang through performance and appearance changes is where they're at. At the NHMC, there is no one "right way" to enjoy a Mustang -- after all, New Hampshire is the "Live Free or Die" state!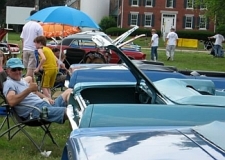 Annual membership dues are $30.00. Club membership includes the monthly club newsletter, membership materials, a network of car nuts who are happy to help each other out, and the opportunity to participate in the club's monthly and annual activities.
Click below for a printable NHMC membership form in PDF format.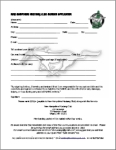 Links to PDF readers are below for your convenience.